Today, anti-aging treatments have increasingly become popular. Advancements in laser technology are now delivering longer-lasting methods of naturally restoring the beauty of the skin. Unlike conventional skin treatment methods like chemical peels and dermabrasion, laser skin resurfacing has unique characteristics that allow precise and more accurate control over the non-surgical laser treatment process.
What Is Fotona Laster Treatment?
Fotona laser treatment is a non-surgical and non-invasive procedure that uses multi-laser technology. Laser skin resurfacing, skin and body tightening as well as hair removal. The Fotona laser system combines two wavelengths; Er: YAG and Nd: YAG which gives it the versatility and efficiency in dealing with a variety of conditions and skin types.
Not only does it boost the effectiveness of laser procedures, but also minimizes complications and improves accuracy and precision in targeting problematic areas. Having been clinically proven to be safe for all skin types, Fotona laser treatments are safe, have a minimum to no downtime and produces satisfactory results.
Fotona Laser Skin Resurfacing
At Ancaster Laser Medispa, we use Fotona fractional laser treatment to get rid of skin imperfections like wrinkles, irregular skin texture, acne scars, and fine lines. It is ideal for those looking to rejuvenate their skins without having to endure the aggressive nature of chemical and surgical procedures.
Our laser skin resurfacing methods are designed to target skin imperfections without much impact on the surrounding healthy tissues. The beauty of it all is that this technique delivers satisfactory results with minimal downtime. Since Fotona laser treatment is highly versatile, we can personalize treatment depending on your skin condition including collagen remodelling or a light peel.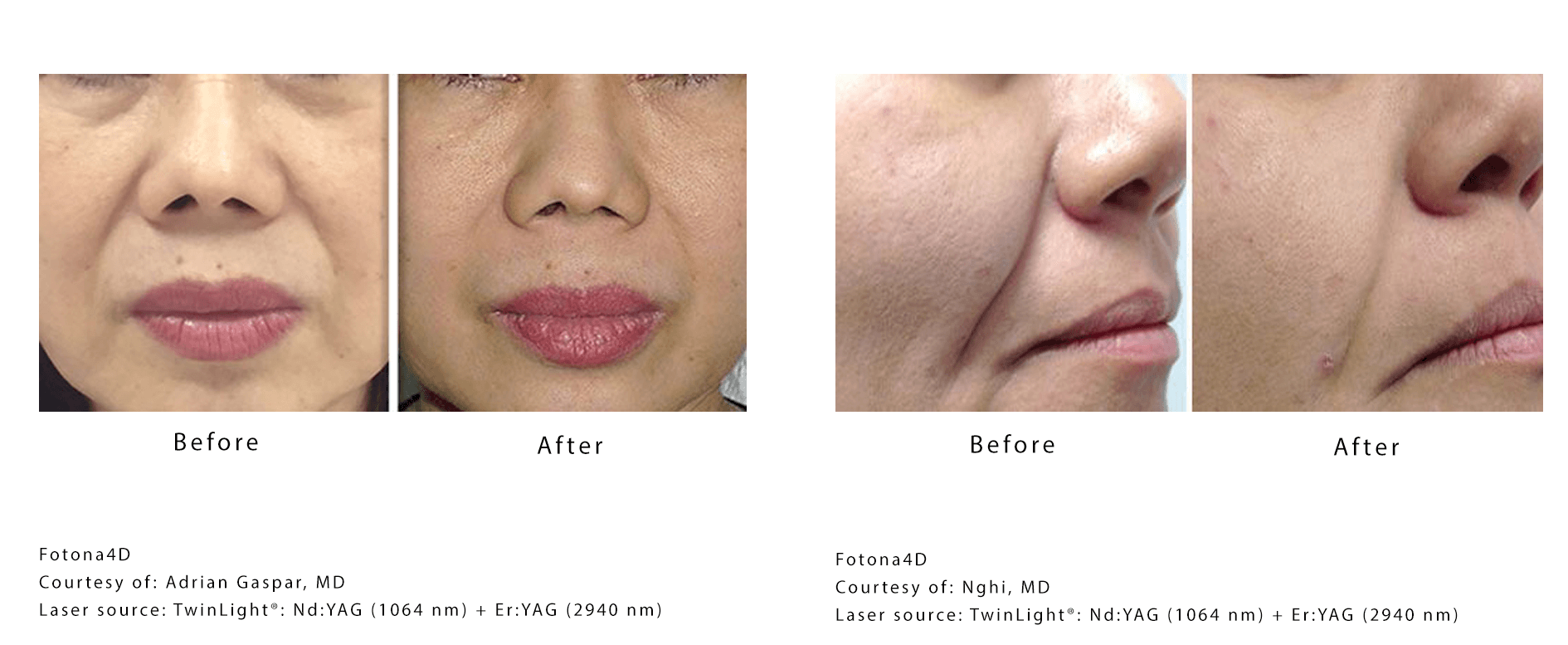 The fractional laser skin resurfacing is a 3-step procedure outlined as follows.
• The skin is first conditioned through dermal heating using the Nd: YAG beam
• Old skin is removed using the Er: YAG beam through accurate micro-ablated channels
• Lastly, skin imperfections are removed through ablation using a light peeling beam for younger-looking skin.
The fractional laser treatment takes up to one hour with varying levels of discomfort depending on the intensity. However, the redness that comes with the procedure will go away after 36 hours, and the abnormal cells will gradually slough off.